A 'field guide' to Tom's books. Choose the best title for your needs.
Remember to buy your books from a local bookshop if at all possible. I benefit, the shop does, and in the end, so will you.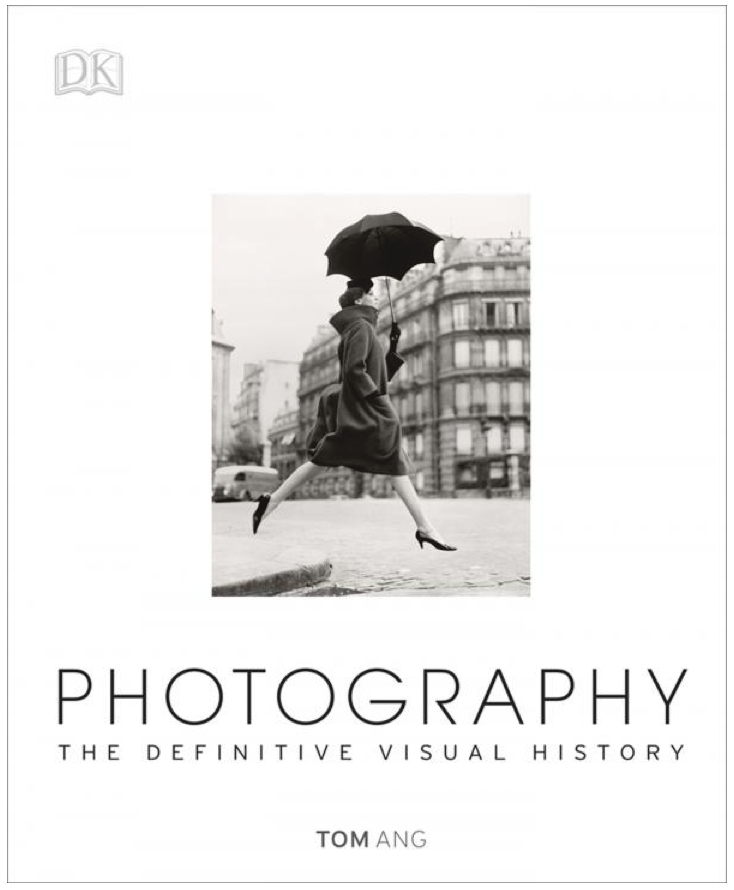 Photography – the definitive visual history
A gorgeous volume for any photography lover. 400 pages of scrumptious images, some you'll know and love, some you'll not have seen before.
A good book for inspiration and ideas. We analyse masterpeices. We give the history of crucial technology. We tell little-known stories about photographers and their work.
Some very warm reviews:
"This is a definitive book on the history of photography that can be a reference guide in universities, libraries, or museums. It is the perfect bond of informative text and compelling visual aides."
"I was shocked on how much I love this book."
"There are few reference books that I read cover to cover. I could not put this book down. "
"A reader could spend many months perusing its informative and visually powerful content."
"…  this is the only history of photography book you'll ever need. "
Digital Photographer's Handbook
Huge sales over the years, in over 20 languages, and still selling strong. It's been through an amazing 6 editions, so it's virtually a completely re-written book and well up to date.
Ideal for beginners, it's full of help, advice, project inspiration and even advice for study and photography business start up. An excellent grounding for photography, it's recommended by many course tutors.
Some reviews:
As a reference, it's superb … you can't turn a page without learning something new … Ang is complete …  never too technical, always detailed and readable.
This is a great reference book that I will be referring to as I expand my photography…
I recommend it to my students.
I can't recommend this one highly enough.
… it is my bible. Great for reference for both new and experienced …. Tom Ang is a master.
Beautifully done – Excellent content – I use it in my class…My classes contain many diverse students … All are quite satisfied with this 400+ page work of art.
Photography: History. Art. Technique
A gorgeously packaged book in a slip-case, it's a compact guide to all things photographic. It opens with a gallery of some of the key figures in photography, from 19th-century pioneers to famous photographers working today. The book then tells the story of photography, from its beginnings to the rise of the "selfie" today.
The second half introduces cameras, techniques, software and even covers film processing. Lots of how-to tips follow. Great introduction and gift for the less experienced photographer.
Reviews received:
… a very interesting book covering a wide range of all things photographic. … worthy of a 5-star rating.
… another excellent photography book from Tom Ang and this one is particularly attractive …
It's packed full of useful information from advanced digital cameras specs to the art of composition.

There is an awful lot here to enjoy.



How to Photograph Absolutely Everything
Created as an easy-to-follow introduction to photography, for beginners, it's been welcomed by more experienced photographers too. That only goes to show we have no idea what we're doing. Just put it out there and see what people make of it.
The book consists of lots typical subjects from townscapes to landscapes, from still-life to abstracts and portraits, with a walk-through of the process of how to photograph the subject. Unlike all other photography books, you see the also-ran and alternate images as well as the final chosen one.
A steady seller, it never seems to date.